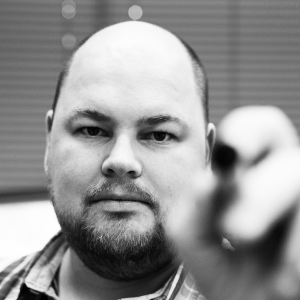 Dr. David Cutting
PhD, MSc, MIEEE, MBCS, MIET, FHEA
Lecturer (Education)
School of Electronics, Electrical Engineering and Computer Science at Queen's University Belfast
+44 (0)28 9097 4998
Summary
I am a passionate computer science geek and educator and have worked in a wide range of roles nationally and internationally. Having completed an MSc and PhD at the University of East Angila I am working as a Lecturer (Education) at Queen's University in Belfast.
If you have any queries please don't hesitate to contact me using the details above.
07/2017 - Present: Lecturer (Education)
School of Electronics, Electrical Engineering and Computer Science, Queen's University Belfast, United Kingdom
Working as a Lecturer (Education) in EEECS teaching a students in a number of subjects and undertaking scholarly activity to build more effective and inclusive teaching strategies.
Teaching Interests
Software engineering, programming, system development, project management, testing, quality in software, development methodologies, risk management, interfaces and external system constraints, real world implementation of engineered software, cross-language design constraints, software platforms, software delivery and management
Teaching Experience
Queen's University Belfast (QUB)
Module organiser and lecturer for:

2017 - present: CSC1023 Databases (First Year, c. 400 students)
2017 - present: CSC2046 Systems Administration and Maintainence (Second Year, c. 90 students)
University of East Anglia (UEA)
Lecturing experience on the following modules:
2012 - 2017: Systems Engineering (Level 3 and MSc)
2013 - 2017: Advanced Programming Concepts and Techniques (MSc)
2014 - 2017: Systems Development (Level 1 – new module in 14/15)
2016 - 2017: Distributed Computing (MSc and Integrated Masters)
Associate tutor running seminar and lab sessions on the following modules at the University of East Anglia:
Research Techniques, Distributed Computing, Database Systems, Internet and Multimedia Techniques, Software Engineering (1 & 2), Systems Engineering, Programming (1 & 2).
Additional experience in creating module plans with learning outcomes from the ground up (Systems Development), as well as writing exam questions and various forms of formative and summative assessment/marking including presentations, written work, exams, code assignments, research reports, and essays. Student module assessment scores available on request.
Awards and Scholarly Memberships
Fellow of the Higher Education Academy.
Awards

Winner, Best Level 1 Lecturer of the Year, EEECS Awards, QUB, 2018.
Shortlisted, Most Inspirational Teacher, UEA Transforming Education Awards 2017.
Winner, Best Support Staff, UEA Transforming Teaching Awards 2016.
Commended nominee for the UEA Excellence in Teaching Award 2015.
Administrative Roles
At QUB:

Course Director: BSc Software Engineering with Digital Technology Partnership (Higher Level Apprenticeship)
Stage Four (MEng final year) Coordinator
While at UEA:
Member of the Staff Student Liaison Committee (SSLC)
School Board (PGR representative), Union Council (CMP PGR representative)
Course Review Committee, Program Committee member for 2016 European Conference of Object-Oriented Programming (ECOOP) Doctoral Symposium
Outreach and Engagement
Numerous school-based events such as:
"Meet the Scientists" – groups of STEM academics visit secondary (11-16 years) schools and run a number of interactive sessions with the students
Summer schools – school groups (often international) visiting the university and taking part in a number of pre-arranged technical activities including robotics and programming
SCRATCH-off competitions – local schools entering groups or individuals for judging on a pre-made game in the SCRATCH language and the results of a challenge set on the day
UEA in the City public engagement event 2015 – numerous researchers from many disciplines presenting their research to a public audience and local business leaders through posters or a Pecha Kucha presentations
Sync the City Norfolk Developers business start-up event 2014 – as part of a team build and launch a new business startup in two days using open public resources
Research Interests
Software engineering, software evolution, recovery of design information, source code analysis, development methodology effectiveness & implementation, system development & engineering
Key Publications
Cutting, D. and Noppen, J. (2014). Working with Reverse Engineering Output for Benchmarking and Further Work, in the Proceedings of the 9th International Conference on Software Engineering Advances (ICSEA), Nice, France.
Cutting, D. and Noppen, J. (2015). An Extensible Benchmark and Tooling for Comparing Reverse Engineering Approaches. International Journal in Advances in Software (num. 8, volume 1&2), pp. 115-125.
Other working papers and extended abstracts, white papers etc. also published – see Google Scholar profile.
Seminar and Conference Presentations
2015 UEA School of Computing Science School Seminar: The problem with software
2015 UEA in the City, a festival of research: Software traceability (winner)
2014 International Conference on Software Engineering Advances
2014 UEA School of Computing Science School Seminar: Traceability Forensics
2013 Belgian-Netherlands Software Evolution Seminar (BENEVOL)
2012 UEA School of Computing Sciences Machine Learning Group Seminar
Key Expertise
Project Management
Software Engineering
Programming
Consultancy
Teaching/Education
Communication Skills
Education
| Qualification | Graduation Year | Detail |
| --- | --- | --- |
| PhD in Computing Sciences (Software Engineering) | 2016 | |
| M.Sc. Advanced Computer Science | 2013 | Distinction |
| HND Computing | 2001 | Merit |